Strategic Direction
Leadership & Housing
Housing priorities
Demonstrating innovation and quality has long guided our approach to leading positive change in the development industry.
We have been updating our Housing Policy during FY21, informed by the lessons and work achieved through our partnerships.
Reinforce our commitment to partnerships with the community housing sector and local councils;

Integrate the responsibilities of all the parts of the business;

Reflect the changing policy landscape and innovations within the industry;
Guide the way that current and emerging projects will innovate; and
Ensure we meet our affordable housing and diversity targets.
Unlike a traditional property developer, our role is to support the government to meet its urban management objectives. Priorities are defined by our Portfolio Minister The Hon Rob Stokes MP, Minister for Planning and Public Spaces, through a Statement of Priorities.
The recent Statement of Priorities challenges Landcom to:
Plan to increase the Affordable Housing target across our portfolio; and
Lead the sector in providing high quality public spaces and work to increase tree canopy cover within our developments.
Our Strategic Directions have never been more important.
Housing initiatives and achievements
Our key housing achievements include:
Housing affordability - We enabled 160 Affordable Housing dwellings for future development at Lachlan's Line and Green Square town centre, Epping and Thornton;

Housing supply – Our projects supplied 4,049 new dwellings including 1,134 at Green Square town centre, 906 at Edmondson Park, 873 at Menangle Park, 432 at Epping (Sydney Metro North West), 236 at Thornton, 133 at Newbrook, 100 at Riverstone, 96 at Lachlan's Line, 80 at Macarthur Heights, 46 at Newleaf and 13 at Renwick.
Housing diversity – Our projects supplied more than 1,100 dwellings that are diverse in terms of their type and/or are priced to be affordable for purchase by moderate income households. This includes a mix of houses and apartments for delivery by others through our sale of development lots. Around a third of homes supplied were homes that were affordable for purchase by moderate income households, including diverse built forms like terrace homes, seniors housing, and secondary dwellings above garages. A small number of rural residential lots also added to the diverse housing supplied in FY21.
Housing accessibility - Our projects supplied 590 dwellings with Universal Housing Design certified as 'silver level' by Livable Housing Australia.
We note that a single dwelling may be both Affordable or Diverse Housing as well as Universal Housing.
Housing leadership
We are committed to complex problem solving, collaboration, and industry research and policy initiatives in sustainability, housing and project evaluation.
Progress this year includes:
Further increasing our industry-leading targets for affordable housing, diverse housing and certified universal design housing, with the revised targets applying to new projects across the portfolio from July 2021;

Significant diversity in the housing released at Edmondson Park. Overall this project is on track to provide approximately 40% of the new housing as a range of diverse housing including terrace houses and homes with secondary dwellings above garages and there are also a number of apartments and one bedroom homes priced for affordable purchase.
Delivering critical community infrastructure as early as possible alongside our housing development projects, including public open space, community facilities and tree canopy;
Using innovative approaches to build affordable and diverse housing to test viability of new typologies and delivery models to share with industry, government and the community;
Continuing to forge innovative partnerships with state and local governments, private landowners, CHPs and other industry partners to increase the affordability, supply and diversity of new housing;
Challenging ourselves to enhance design and quality by obtaining independent, expert and impartial advice on development projects through our Design Review Panel; and
Serving as a trusted advisor to government and industry on the planning and policy reforms to enhance the supply, affordability and diversity of housing and create great places in NSW.
This includes:
Contributing to NSW Geovernment's NSW Housing Strategy 'Housing 2041' in which Landcom is identified as having a role to 'maximise the impact of government owned land, investment or assets and government-led projects or funding to achieve the housing vision';
Advising local councils interested in supporting landowners to develop paper subdivisions;
Responding to the NSW Productivity Commission's review of infrastructure contributions and continuing to support the NSW Government with detailed design and implementation of the infrastructure contribution reforms;
Contributing to numerous industry organisation working committees; and
Offering advice to DPIE in relation to the proposed Design and Place State Environmental Planning Policy and associated policy documents.
New challenges
COVID-19 continues to raise new challenges for how people live and work. We are exploring new approaches to address the implications for housing and communities, and for our industry and partners. As we try new ideas we will stay flexible to account for emerging issues and opportunities during the evolving situation, and inform our practices in the year ahead.
Lachlan's Line Lot 117
Lachlan's Line Lot 117, was the first in a pipeline of Landcom projects that offered a partnership with a Community Housing Provider (CHP) to deliver 100% affordable housing through a newly designed Request For Proposal (RFP) process.
Through engagement with the CHP sector and input from our Demonstration Program Reference Panel members, we were told that many existing tender processes were both costly and resource intensive
for their organisations. From these conversations
and feedback, we developed a two part RFP Process designed to be less onerous in time and cost for CHPs.
The process was developed from a values-based approach founded on:
Innovation;

Empathy and efficiency;

Collaboration;

Flexibility; and

Openness.
This approach underpins the partnership framework for these projects and was the driver for the development of the RFP process.
Our commitment to simplifying the tender process translated into:
The design of a new Landcom Tender Portal managed internally;

A suite of new RFP submission documents including returnable schedules; and

A two-part process shortlisting highest ranked submissions after Part 1 assessment with an invitation to participate in a more detailed Part 2 submission process.
We continue to have conversations with the sector seeking feedback on their experiences with these processes so that we can deliver improvements to each of our RFPs and projects, in the future.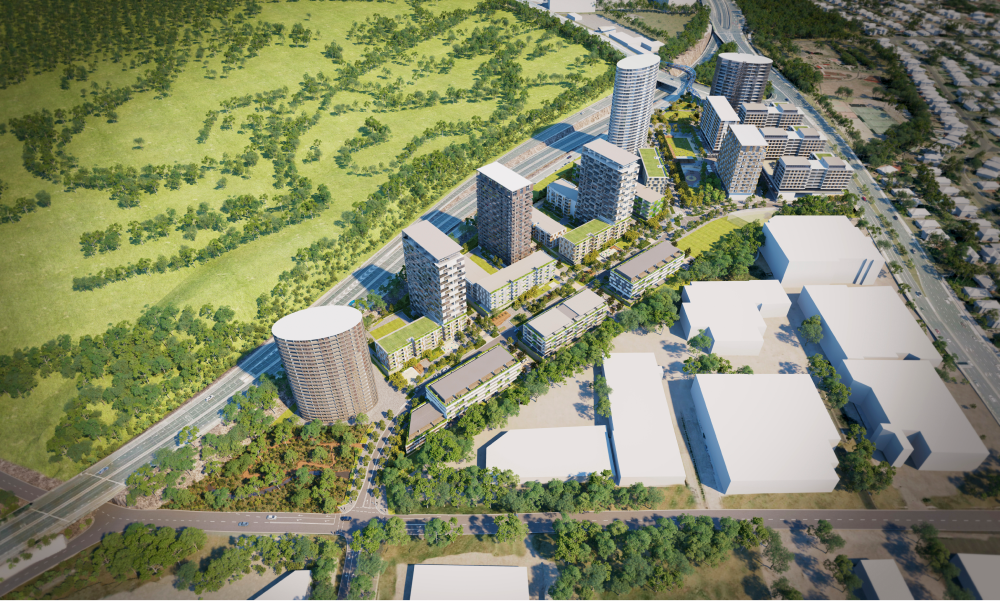 Render of Lachlan's Line from the Landcom Tender Portal
Other Case Studies